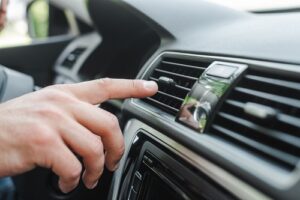 Summers in Knoxville are a blend of delightful moments and sweltering heatwaves. As you journey between sandy beaches and tantalizing ice cream parlors, the last thing you want is for your car AC performance to falter. With the temperature soaring, ensuring your vehicle's cooling system stays robust is paramount.
Peak AC Performance All Summer
Commit to Regular AC Maintenance: Just as every component of your vehicle needs attention, so does your AC system. Regular checks and maintenance are vital. Why wait for a malfunction when Miller Brothers Transmission Auto Repair and Body Shop can preemptively inspect for leaks, assess pressure, tidy up the condenser, and ensure correct refrigerant levels? Being proactive not only dodges unexpected auto repairs but also promises comfortable rides.
Recharge the AC System Periodically: If your air conditioner hasn't been checked in a while or seems sluggish, it might be time for a recharge. This process entails purging old refrigerant, deep cleaning, and then refilling the system. Trust in the expertise of Miller Brothers Transmission Auto Repair and Body Shop, where our specialists employ the latest in tech to ensure your AC gets a comprehensive recharge.
Monitor your Cabin Filter: Often overlooked, the cabin filter is pivotal to your AC's performance. It acts as a sentinel against dust, pollen, and other airborne nuisances, ensuring every breath you take is pure. However, a clogged filter strains your AC, diminishing its efficiency. It's wise to replace this filter annually to ensure seamless cooling.
Practice Smart Driving: Simple changes in your routine can immensely benefit your AC. Seek shaded parking spots, employ window shades, or slightly crack open the windows when parked. These habits can keep the car's interior relatively cooler, easing the burden on your AC when you start up.
Rely on Miller Brothers Transmission Auto Repair and Body Shop: Knoxville's sun-drenched summers require your car's AC to be in top shape. Entrust your cooling needs to Miller Brothers Transmission Auto Repair and Body Shop. By adhering to these guidelines and aligning with our expert services, you're on track for a breezy, enjoyable drive, no matter the heat.
Feeling the Knoxville heat? Don't let a faulty AC ruin your summer drive. Refresh and rejuvenate your car's cooling with Miller Brothers Transmission Auto Repair and Body Shop! Book your AC repair now and cruise in comfort.
Like our Facebook page for more information about auto services.
Miller Brothers Transmission Auto Repair and Body Shop
7123 Tazewell Pike
Corryton, TN 37721
(865) 689-5072
https://www.millerbrosautorepair.com/
Serving Knoxville, TN and Knox County
Service areas include: All of Knox County, Corryton, Fountain City, Halls Crossroads, Powell and Knoxville