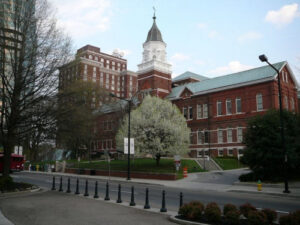 Knox County was created on June 11, 1792 by Governor William Blount from parts of Greene and Hawkins counties, and has the distinction of being one of only eight counties created during territorial administration. It is one of nine United States counties named for American Revolutionary War general and first United States Secretary of War Henry Knox.
Miller Brothers Automotive is located in Knox County and serves residential and commercial car owners with automotive services including collision repair, care repairs and tire services.
The Best Automobile Advice From a Knox County Mechanic
If you care about your automobile, you'll maintain that vehicle regularly with the help of a certified mechanic. Sure, you can do many things on your own. DIY vehicle repair is incredibly common these days, especially now that we have tutorial videos on YouTube and How-To articles on various websites. Even a person who doesn't know a thing about cars can take a crash course in changing their own oil by watching a video or two, and they just might manage to pull it off. But follow the below advice, please, when it comes to maintaining your car. Your auto mechanic will thank you.
Trust Your Auto Mechanic
It's frustrating when a customer comes in claiming to know exactly what's wrong with the vehicle and exactly what's required to fix it, only to find out that the customer is dead wrong. While the internet is great for teaching DIY vehicle maintenance, it has also created an army of armchair auto mechanics. We have sophisticated computers and techniques that we use to diagnose the problems your vehicle may be facing. Trust Miller Brothers Transmission Auto Repair and Body Shop when we give you advice. That's what you pay us for, after all.
Maintain Your Vehicle Regularly
You can't change your oil once every ten years and expect your vehicle to make it to 100,000 miles. Your car needs its oil changed regularly, the brakes should be checked twice per year, you should flush your coolant at least once per year, and that's just some of what's required when it comes to keeping your vehicle on the up-and-up.
While the cost of maintaining your vehicle regularly may seem like a lot of money, you have to consider that not maintaining your vehicle will only cause serious and very expensive problems later on. Spend your money wisely on proper vehicle maintenance and you'll save much more money in the long run, promise.
Get Multiple Quotes
You may think that you're getting one over on a shop by going out and getting multiple quotes. But most auto shops want you to feel completely comfortable with the establishment, the service provided and the cost of that service. If going out and getting multiple quotes will prove to you that you're not being gouged, then so be it. You'll find that most shops want you to go out and get multiple quotes. If you have the time, it's recommended. We want you to trust us when we work on your vehicle and shopping for quotes can help to solidify that trust.
Drive a Little and Save
Sometimes the mechanic right next door may not be the best choice. How long will it take for them to get to your auto repairs? Do they have the equipment to properly repair your car after an accident? Do they carry the parts needed?
Miller Brothers have been serving Knox County since 1978. We are a short drive from any point in the county. Call us today to schedule an appointment for service or an estimate. We look forward to hearing from you.