Auto dent removal service
Do you still have questions about hail or other damage to your car? We get it. Hail damage to cars can be difficult. It's not easy to restore your car to its original condition if you don't get in touch with your insurance company as soon as possible. You might consider going with the cheapest dent removal available. Or, perhaps you are considering buying a DIY kit to fix a few dents yourself. It's not something we recommend, but there are many good reasons to have an auto dent specialist repair your vehicle.
Miller Brothers Transmission Auto Repair and Body Shop specialize in Auto dent removal service and our technicians have spent years training and perfecting their skills. Our team can handle anything from severe hail damage to door dents. Our team offers exceptional dent removal services and will provide you with the perfect customer service experience. Here are some reasons why you should trust us for dent removal and avoid DIY auto body repairs: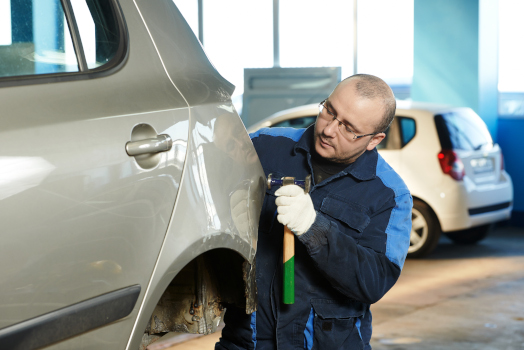 Reason #1: Repairing a car's dent is not as simple as it seems
You've likely searched the internet for "dent and scratch treatment" to find articles and videos that show you how to remove dents on your car. You might think it's easy. Many of these companies will try to sell you a DIY kit for dent repair. Most kits come with at least one tool. However, vehicle dent repair is not an all-inclusive project. A kit may not work for all dents, especially if the hail damage to your vehicle is severe. You don't want your vehicle to be further damaged by the use of the wrong tool. In a moment, we'll discuss more. Reputable auto dent repair companies can use a variety of tools to repair dents. An experienced dent specialist will examine each dent and decide which method and tool are best for the situation.
Reason #2: Dent repairs are not a trial-and-error endeavor
You might believe that your vehicle is already damaged and it won't matter how much you try to repair it. There are several reasons it matters. Your insurance company will send an appraiser out to evaluate the damage to your vehicle if you work with them to get repairs covered. They might attempt to insure the damage, which includes both the original and additional damage that you did to the vehicle. The type of damage to a vehicle will also determine what type of repairs it requires. Paintless dent repair (PDR), is what an insurance company will prefer to use whenever possible.
Paintless dent repairs are much cheaper than traditional repairs if you have to pay out-of-pocket. PDR is only available for certain types of dents. Paintless dent repair is not available for cars with damaged or cracked factory Auto painting. Intentionally chipping or cracking paint is one of the biggest mistakes people make when trying to repair a car with dents. It can be costly if your car is not eligible for PDR but you accidentally chip or crack the paint while trying to fix it. Why? You need to know the difference between traditional and paintless dent repairs in order to understand why.
Traditional dent repair – This involves sanding off any factory paint, hammering back the damaged material to its original form, filling up any gaps with putty, and finally repainting.
Paintless dent repair is a process that restores your car to its original condition without the need for sanding or painting. Instead, a technician inspects the damage and determines how to fix it. This could be done through a window or by removing an inner panel. After determining the best tool for the job, the technician begins at the outer edge of the damaged area. Then, he or she carefully massages the material into its correct place. The technician will gradually reduce the area that is damaged and eventually make it disappear completely.
You might have noticed ads for companies that offer amazing deals on paintless repair if you have ruled out DIY. You should do your research as many of these companies are just pop-up shops that only open during hail season  and close down once the season ends. This way they are not responsible for poor repair work.
Repairing dents on cars without further damaging the material is a task that requires professional training, expert skill, and exacting precision. Miller Brothers Transmission Auto Repair and Body Shop offer quality auto dent removal services. Call us today to book an appointment.
If you have any question regarding our auto repair or body shop services, we encourage you to contact us by phone or email, or visit our service center. We are proud to offer all types of auto repair, maintenance and body shop services to meet your automotive needs.
OUR ADDRESS
7123 Tazewell Pike
Corryton, TN 37721
EMAIL US
millerbrothers06@comcast.net