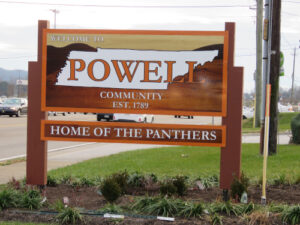 Despite its status as unincorporated, Powell TN is considered to be more of an "independent" small town than a suburb. One of the reasons behind this is that it was established in 1789 (two years before the establishment of Knoxville) by settlers passing through East Tennessee into the frontier. Among these early settlers was Stockley Donelson (1753–1804), a brother-in-law of President Andrew Jackson. Another early settler was John Manifee, a Revolutionary War veteran who built a small fort and trading station along what is now Clinton Highway in the late 1780s.
The influence of the Old South's culture can still be seen today in Powell, mainly by architecture. There are several Antebellum homes located along Emory Road and the original neighborhoods of Powell. Several of the older homes in the original part of Powell are believed to have been used as Confederate hospitals during the Civil War.
Today the streets of Powell are traveled by vehicles of every age and type. The residents of Powell can rely on Miller Brothers when they need service or auto repair.
Features of Powell Auto Service Centers
With the wide variety of vehicles on the roads today, it can be hard to find a Powell auto service center that fully understands the make and model of your vehicle.  You have a busy schedule and the timing of service can be tricky, but it is an important task that needs to be done on a regular basis to keep your car running at peak performance.
Unfortunately, simple regular use of your Knox County vehicle or an unexpected accident can cause damage to your car.  In order to serve an ever-growing need, auto service centers are cropping up on every corner. With help, auto owners like you can find a good auto service center that can work with almost any make and model.  With today's computerized diagnostic systems, most vehicle service centers are prepared to quickly analyze the problem and get you back on the road quickly.
Services Offered By Miller Brothers Transmission Auto Repair and Body Shop
Brake repair and replacement if needed
Exhaust system repair
Air conditioning system repair
Suspension services
Transmission services
Oil Change and general maintenance
Auto painting
Because there are so many auto service centers near Powell, selecting the right repair shop for your vehicle can be difficult.  Here are a few points to consider:
Skilled and experienced workmanship – this is one of the key features of an experienced auto service center.  How long has the service center been in business? Is their work covered by a warranty?  Ask them about their experience with your specific make and model of vehicle.  Is the auto service technician polite and can they tell you what needs to be done in terms you can understand?
Hannah Elliott – I went to Miller Brothers to get my oil changed and new tires. Start off by saying, they were great! They got my car in and out in no time and a very reasonable price. I will be going back for all of my car needs! Great staff! Thank you guys!
Quality tools and equipment – does the auto repair shop have the latest in diagnostic equipment?  If you have an older vehicle, a computerized diagnostic system may not be necessary, however, with newer vehicle models it is a necessity.  Is the shop neat and clean?  Do the technicians act like they know what they are doing? This may sound strange, but you would be surprised how many auto service technicians are learning as they go along.
Miller Brothers Transmission Auto Repair and Body Shop
7123 Tazewell Pike
Corryton, TN 37721
(865) 689-5072
https://www.millerbrosautorepair.com/
Service areas include: All of Knox County, Corryton, Fountain City, Halls Crossroads, Powell and Knoxville