The vehicle's automatic transmission is one of the most complicated mechanical parts. Transmission repair can also be very costly. To keep your vehicle running smoothly, make sure you have an automatic transmission service performed as directed by the manufacturer.
However, transmission servicing is one of the most neglected preventative maintenance items because of its cost and ambiguity. Here's all you need to know about this crucial service.
What is Automatic Transmission Service?
The automatic transmission, just like an engine, is filled with fluid that must be changed at certain intervals. A filter is used to keep the filter clean. The automatic transmission service involves draining the transmission fluid and replacing the filter. This requires the removal of the transmission pan.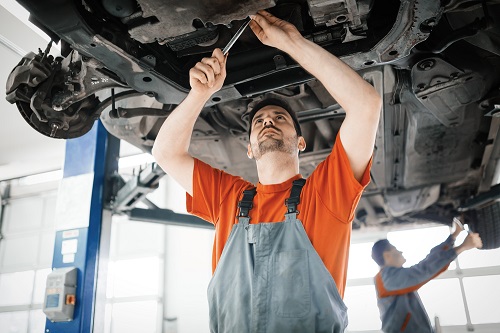 A transmission flush is a separate service that hooks up to the transmission lines and flushes the whole system for a complete transmission fluid change. Although a typical transmission service doesn't include a flush service, most transmission flushes are done alongside a standard fluid/filter.
When should you perform this service?
Routine scheduled maintenance should include servicing the automatic transmission. This varies depending on which vehicle you have. This service should be performed every 50,000-60,000 miles, with some manufacturers suggesting that it is done at 100,000-mile intervals.
It is easy to determine if you need to do a transmission service on your vehicle by removing the dipstick and checking the condition of the transmission fluid. The fluid should be clear and bright red. However, if the fluid is darker or brownish you need to have it changed. A slipping transmission could be a sign that the vehicle shutters between gear shifts.
Is This an easy DIY repair?
This service can be used if you just need to drain the transmission and replace the filter. However, it is more expensive than an oil change. Do-it-yourself transmission services can be more difficult than an oil change. It requires more access to the vehicle and is often a messy job. The professionals are best to flush the entire system. It's easier with the help of specialized equipment. This is not a job you can do yourself. Instead of taking your vehicle to a general auto repair shop, or tire shop, make sure they are trained in automatic transmissions.
Looking for quality transmission repair? Look no further! Miller Brothers has you covered. We offer transmission services, auto body repair, and more. Come visit us today or contact (865) 689-5072.
If you have any question regarding our auto repair or body shop services, we encourage you to contact us by phone or email, or visit our service center. We are proud to offer all types of auto repair, maintenance and body shop services to meet your automotive needs.
OUR ADDRESS
7123 Tazewell Pike
Corryton, TN 37721
EMAIL US
millerbrothers06@comcast.net