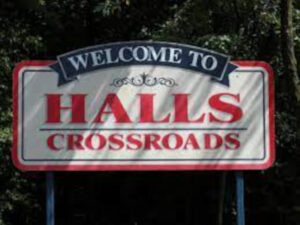 Halls Crossroads, more commonly called "Halls" by locals, is just across the hill where North Broadway becomes Maynardville Pike. Although not within the official Knoxville city limits, Halls is considered by most as part of the city, with Fountain City to the south, Powell to the west, Corryton to the east, and Maynardville to the north.
Halls Crossroads has grown and become a vital part of Knox County. It has six county schools, several banks, shopping centers, and various other shops and services. Some of the popular places of business inside the community include the Halls Cinema 7, Bel Aire Burgers, and the new Walmart Super Center.
Miller Brothers is proud to serve Halls Crossroads residents and businesses with auto repair and body services. We also have a great tire service for your connivance.
You've come to the right place if you need a mechanic or Halls Crossroads auto service. It can be difficult to know who will take good care of your vehicle and who will make quick money from poor repairs. This quick guide will help you identify the qualities you should look for in an auto repair shop.
Clean and well-organized workspaces
A mechanic shop's state and condition are a reflection of its service. You won't receive the best auto service if the shop is small, disorganized, crowded, or messy. It's not easy to keep an auto shop clean. However, a few oil spills or stains should not be a problem. However, it is important to keep things tidy and organized. This shows that the mechanic is serious about their job and safety.
Excellent Customer Feedback and Reviews
When it comes to mechanics, word of mouth is still the best. Reviews and customer feedback – both positive and negative – can give you information about the quality and reputation of a shop. Most people will not review their mechanics online if they are just satisfied. If your mechanic has received a lot of positive reviews and customers are happy with the project turnaround time, customer service, and expenses, it's a good sign.
Wendy, Michael and team are nothing short of great! Our KIA was a victim of a fender bender. This required some fender skirt repair/paint as well as front light assembly replacement. Michael took the lead in dealing with a very frustrating insurance company(Farmers). They also assisted in getting our rental! Our KIA was ready in 2 days…2 DAYS!!! The color matches perfect. No more looking when we need a car serviced/repaired! Thank you Miller Brothers!!
OEM (Original Equipment Manufacturer) Parts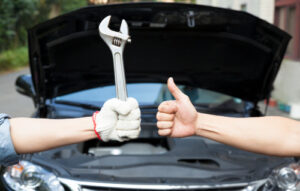 OEM parts are the ones made by car manufacturers, such as Honda or Toyota. For basic repairs such as brake pads and air filters, most auto repair shops will not use OEM parts. However, OEM parts are recommended for more serious repairs. OEM parts will ensure you get the best results and the factory warranty is still valid. Even if the price is higher, it is worth asking if your shop uses OEM parts.
These were the 3 tips to help you find a great mechanic!
These simple tips will help you find an auto mechanic or repair shop near you. You can also use their services with confidence. Take a second look and begin to search for the right mechanic for you.
Always remember that Miller Brothers Transmission Auto Repair and Body Shop is here if your car is having problems. Contact us today for reliable Halls Crossroads auto service.
Miller Brothers Transmission Auto Repair and Body Shop
7123 Tazewell Pike
Corryton, TN 37721
(865) 689-5072
Service areas include: All of Knox County, Corryton, Fountain City, Halls Crossroads, Powell and Knoxville