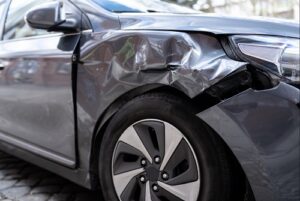 Getting your car repaired after an accident can be confusing if you're not familiar with collision repairs. When you think about it, you might imagine skilled technicians in an auto body shop in Knoxville TN working hard to make your car look brand new again.
While that's partly true, the auto body repair process is more involved than that. Let's break it down so you know what to expect if you're ever in an accident.
The Best Auto Body Shop In Knoxville TN For Auto Repairs
Assessing the Damage
Right after the accident occurs, it's essential to assess the damage to your car. Check for any visible signs of dents, scratches, or structural issues. It's a good idea to take photos of the scene for documentation purposes and potential insurance claims.
If you or anyone else involved in the accident is seriously injured, prioritize calling an ambulance and the police for immediate assistance. If the accident happened outside the city limits, notify the appropriate local authorities.
When reporting the accident to your insurance company and the police, provide an honest and unbiased account of what happened. If you were using your phone while driving, it's crucial to disclose this information to avoid any complications with the authorities.
Also, make sure to exchange contact information with the other driver involved in the accident. This step is vital for covering the collision repair costs. If the other driver claims to have no insurance policy, seek assistance from the proper legal authorities to handle the situation.
Estimating the Repair Cost
To get an accurate repair quote, take your car to a reliable auto body repair shop. While you can provide pictures or have a consultation over the phone, bringing the car to the body shop in Knoxville TN allows technicians to conduct a more thorough inspection.
Keep in mind that the initial estimate usually covers only the visible damage. Once the technicians start disassembling and examining the car, they might discover additional damage, which can lead to extra repair costs.
When choosing which repair quote to proceed with, remember that the cheapest option is not always the best. It's essential to select a company that provides a comprehensive and detailed quote and one that you feel comfortable trusting with your vehicle.
Additionally, consider the option of repairing your car instead of writing it off through an insurance claim. Insurance companies factor in the depreciated value of your car, which decreases over time. Repairs often offer a better value, especially for older vehicles with wear and tear.
Blueprinting and Teardown
To ensure a systematic repair process, collision repair and auto body technicians create a blueprint of your car's condition. This blueprint serves as a map for the repairs. During the teardown phase, the technicians dismantle the relevant parts of your vehicle for a more in-depth examination. It's not uncommon for hidden damage to surface during this stage, which may require adjustments to the initial repair estimate.
Some insurance companies may request disassembly before processing your insurance claim. This allows for thorough documentation of all damages, reducing the likelihood of disputes later on. It's also a way for insurers to prevent potential fraudulent claims.
As the car owner, you have the final say on when the car repair work begins. If your vehicle is still drivable, you can wait until all the necessary materials and parts are ready before commencing the repairs.
Metal and Frame Repair
Collisions can cause severe damage to your car's frame, often to an extent that's not visible to the naked eye. During the repair process, one of the first priorities for auto body technicians is to assess and, if needed, reshape the car's framework. They use laser frame diagnostic systems and specialized frame machines to ensure accurate shaping, bringing the vehicle back to its pre-accident form.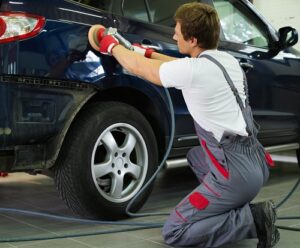 Metalwork comes next, where damaged metal parts of the car are replaced as necessary. Each part undergoes analysis using an electronic measuring system to ensure that the auto body and mechanical repairs align with factory standards.
This attention to detail is crucial in guaranteeing the car's chassis is straight and the frame maintains its structural integrity, ensuring safe driving conditions. Wheel alignment and suspension repairs are also addressed during this phase, as they play a significant role in the vehicle's maneuverability and overall safety on the road.
It's vital for the frame and mechanical repairs to work in harmony to avoid the need for emergency adjustments later on. Experienced auto body service centers are well-versed in this aspect of the repair process.
After completing the mechanical and frame repairs, the car is prepared for painting. The technicians carefully tape off surfaces as needed before sanding and applying primer. The painting process includes a base coat that matches the original color and a clear coat for protection. After curing, the vehicle undergoes a glossy finishing step, restoring its pre-accident shine.
Reassembly of the car follows the painting process. Every piece and part that was removed during earlier stages is carefully restored to its original location. This meticulous process ensures that the car is brought back to its proper working condition. Auto mechanics from Miller Brothers Auto Repair pay close attention to detail during reassembly to avoid any oversight that might compromise the vehicle's safety or functionality.
Even a minor mistake, such as forgetting to install a single screw, could have significant consequences. This is why choosing a reputable auto body shop with skilled technicians is essential, as they understand the importance of precision and thoroughness in this stage of the repair process.
An initial inspection is conducted after reassembly, and some auto body repair shops might perform a test drive within their facility to ensure that everything functions correctly. This additional step helps to identify any potential issues that may require further adjustments before the final delivery.
Detailing and Cleaning
Once the major auto repair work is completed, the car undergoes a thorough cleaning and detailing process. Any debris or metal dust resulting from the repair is removed, and the car's interior is carefully scrubbed and cleaned. The paintwork is re-polished to achieve a high-quality finish. Technicians also inspect all the light components and ensure they are functioning correctly.
During this phase, the Knoxville TN auto body repair center scrutinizes the car for any minor glitches. Every tiny detail is checked and fine-tuned to achieve a showroom-quality result. The goal is to deliver the repaired car in impeccable condition to the customer.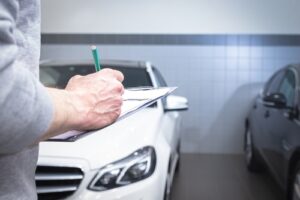 Final Inspection and Delivery
Before you take back your car, the Knoxville TN auto body repair shop will contact you to discuss the repairs and provide a detailed list of all the work done. This itemized list includes a breakdown of all the parts and services involved in the repair process. It helps you understand the extent of the repairs and the associated costs.
It's essential to perform your own inspection of the exterior and interior of the car to ensure that the repairs meet your expectations. A representative from the auto body shop in Knoxville TN will be present to address any concerns or questions you might have.
Don't accept the keys until you're completely satisfied with the collision repair results. If you notice any issues or are not content with the repairs, don't hesitate to communicate them to the repair center.
Furthermore, the repair technician or collision repair representative will advise you on the next steps, including recommended check-ups and paint care for your newly repaired car. They may also explain any auto body repair warranty that applies to the work done.
The auto body repair process is indeed complex, as it aims to restore your vehicle to its original shape and condition. It requires the expertise of skilled technicians and a reputable collision repair center. By choosing a reliable and experienced service provider, you can have confidence that your car will receive the necessary care and attention to detail, ensuring a safe and satisfactory outcome.
Call Miller Brothers Transmission Auto Repair and Body Shop now and let our team of expert mechanics fix your car problems.
Like our Facebook page for more information about auto services.
Miller Brothers Transmission Auto Repair and Body Shop
7123 Tazewell Pike
Corryton, TN 37721
(865) 689-5072
https://www.millerbrosautorepair.com/
Serving Knoxville, TN and Knox County
Service areas include: All of Knox County, Corryton, Fountain City, Halls Crossroads, Powell and Knoxville