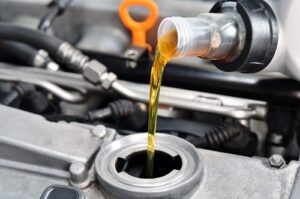 The oil light on your car's dashboard is like a watchful guardian, and it's not something you should ignore. This little light is like a whisper from your car's engine, telling you that its oil pressure has dropped to a risky level.
Think of it as your car's way of saying, "Hey, we've got a problem!" Now, you might wonder, is it okay to keep driving when the oil light is on? Let's break it down.
Can You Keep Driving with Oil Warning On?
To truly understand this, let's talk about what engine oil does for your ride. Think of it as the lifeblood that keeps your engine's moving parts in harmony. It's like a cool breeze on a hot day, preventing things from overheating.
Without enough oil, it's like those moving parts start having friction-fueled tantrums, getting all heated up. And that's bad news. It can cause serious damage to your engine, like a total meltdown. So, here's the scoop – driving with your oil light on is not safe.
What To Do When Oil Light Comes On:
If that pesky oil light starts glowing on your dashboard, here's what you should do: Pull over and turn off the engine. First things first, check your engine oil level using the dipstick (that long, thin metal stick).
If it's running low, you need to give your car a little love – add the right amount of oil. But, hold up! Just adding oil might not be the golden fix. The oil pressure might still be acting up, hinting at a bigger issue.
Let's say your oil level is all good, but that stubborn light still won't quit. That's when the experts come into play – the car whisperers, aka professional mechanics from Miller Brothers Transmission Auto Repair and Body Shop. They need to take a look at your engine's oil system to spot any hiccups. They might even give your engine a thorough check-up to find out why your oil pressure is throwing a tantrum.
What's behind this oil light drama? Well, a few things could be causing the ruckus:
Low Engine Oil Level: If you've been a bit slack on oil changes or there's a sneaky leak, your oil level could be running low.
Worn-Out Oil Pump: This pump is like an oil traffic cop, directing the flow around your engine. If it's worn out, it might not keep the oil moving smoothly, causing that pesky light to glow.
Clogged Oil Filter: The oil filter is your engine's clean-up crew, catching dirt and gunk. But if it's clogged, it could slow down the oil's flow and make the light go, "Hey, something's not right!"
Faulty Oil Pressure Sensor: Imagine this sensor as the messenger between your engine and the dashboard light. If it's acting wonky, it might tell the light to flicker even when everything's fine.
Oh, and here's an extra nugget of wisdom: ignoring the oil light could do more than just hurt your car. It might even void your warranty. Most car technicians want you to take warning lights seriously to keep your ride in tip-top shape. If you let that oil light shine and keep on driving, any engine troubles that pop up might not be covered by your warranty. Ouch!
By the way, sometimes that oil light isn't just about low pressure – it could be a sensor or wiring goof-up. Don't sweat it, but do get it checked by an auto mechanic in Knoxville TN. They'll sort out the mystery.
Remember, when that oil light starts shining, don't brush it off. Pull over, give your engine a breather, and check that oil level. And if things still aren't right, let the experts work their magic. Driving with the oil light on is like ignoring a waving lifeguard at the beach – not a smart move.
Taking care of it ASAP can save you from a headache down the road (literally!) and make sure your car's engine purrs like a happy kitty. Call Miller Brothers Transmission Auto Repair and Body Shop now.
Like our Facebook page for more information about auto services.
Miller Brothers Transmission Auto Repair and Body Shop
7123 Tazewell Pike
Corryton, TN 37721
(865) 689-5072
https://www.millerbrosautorepair.com/
Serving Knoxville, TN and Knox County
Service areas include: All of Knox County, Corryton, Fountain City, Halls Crossroads, Powell and Knoxville