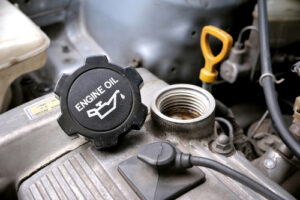 Few things in automotive maintenance are more important or easier than following a regular schedule for oil changes. There are many benefits to changing your oil regularly. Regular oil changes will improve the performance of your engine, increase its lifespan, and allow your car to achieve maximum gas mileage. Oil that is clean and fresh will keep the engine running smoothly and lubricated.
What is an oil change?
Miller Brothers Transmission Auto Repair and Body Shop, says that the primary purpose of motor oil to lubricate your engine is to prevent abnormal wear. Friction builds up in the engine when oil is not changed regularly. The engine is forced to work harder because of excessive friction.
Automakers also design cars today with engine controls that influence the engine's fuel mileage, emissions and overall efficiency. These engine controls are powered by oil and oil pressure. These controls cannot function properly when your oil is dirty or low.
Why should you get your oil changed?
Consistent oil changes are a vital part of preventative auto maintenance. Your motor oil will deteriorate over time and become less effective at breaking down particles in your engine. Filters are only able to hold so much debris before it seeps into the engine. This gunk combined with the friction loss that is caused by dirty or low oil levels causes engine wear and a drop in performance.
Your wallet can be hurt if you don't change your oil. Mechanics explain that the  customers who dd not perform preventative maintenance – when they opened the engine, there was no oil. Instead, a thick sludge. It's hard to save an engine after that. Oil changes are designed to save you money on a new vehicle or engine.
What are the types of auto oil?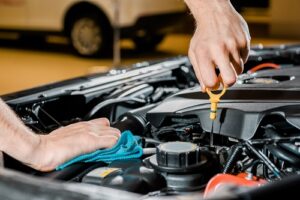 It's important to choose the right oil, whether you have it changed by a mechanic or DIY. You'll often find an oil sticker on the hood of some cars that will tell you what type of oil is best for your vehicle. You can also consult the owner's guide. Motor oils are available in a variety of viscosity and weight levels.
Oil is classified into three major categories.
Synthetic: High-performance vehicles need this chemically enhanced, more expensive oil to last longer and run cleaner. It also maintains viscosity.
Semi-synthetic Oil: This oil has many of the same properties as synthetic oil, but is priced lower than the top-end products. Manufacturers recommend this oil for older vehicles.
How often should I replace my oil?
We have  a rule of thumb that breaks down oil types into different categories. You should follow these guidelines even if you haven't driven your car in a long time. He says that an oil-change could save you a lot of money in the future on engine problems.
Synthetic: every six months or 6,000 miles
Semi-synthetic oil: every five months or 5,000 miles
Conventional: every three months or 3,000 miles
Oil change maintenance: Other considerations
If you are comfortable, you can check the oil level yourself. Most newer cars have dashboard indicators and sensors to alert you when your oil needs changing. Miller Brothers believes that most cars still have dipsticks, which are easily accessible and allow you to check the oil. If your car has sensors, it could already have an issue when the light illuminates. It never hurts to have a look. Wait until the engine is cooled before touching it.
Once you have located the dipstick, remove it and clean it with a rag. It is important to note the oil level and color. If the oil color is not black or brown, or you can see dirt or other particles within it, then make an appointment with Miller Brothers  to have your oil changed.
Like our Facebook page for more information about auto services.
Miller Brothers Transmission Auto Repair and Body Shop
7123 Tazewell Pike
Corryton, TN 37721
(865) 689-5072
https://www.millerbrosautorepair.com/
Serving Knoxville, TN and Knox County
Service areas include: All of Knox County, Corryton, Fountain City, Halls Crossroads, Powell and Knoxville