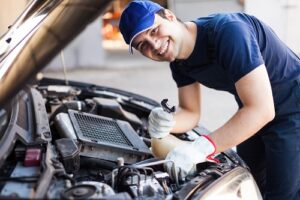 When it comes to auto repair, the Miller Brothers Transmission Auto Repair and Body Shop is ready for anything. From simple oil changes and tire rotations all the way up to tough jobs that take expertise to fix – we'll get your car up and running again! But some repairs can be more difficult than others. Get an inside look at what our techs find toughest – from understanding complex engine systems down to fixing those hard-to-reach components!
Auto Repair and Maintenance
Spark Plugs
When it comes to replacing spark plugs, expect the unexpected. It may sound like a straightforward job – pluck out the old and insert new ones – but there's one hitch: locating them in their tucked-away spot in an engine bay can be quite tricky! This little auto repair is not for those easily frustrated; you better have some patience if things take longer than expected when accessing these tiny components that are vital for your car's performance.
Clutch
Our Corryton auto repair techs may not get many chances to work on manual transmissions, but when one does arrive at our auto repair shop it's always a challenge. The reasons for clutch issues are usually either poor driving resulting in premature wear and tear or inadequate maintenance. If that damage reaches the transmission then our technicians must take up an even greater effort – daunting yet exciting!
Transmission
Maintaining your car transmission is a critical part of the performance, and though it can be expensive to make repairs now, in the long run you'll save money. Investing in adding new fluid or replacing bad shift cables before issues become major problems will help ensure that bigger fixes (like dismantling the entire transmission) aren't necessary – which would take an even larger toll on both time and finances!
Engine Swap
Replacing an engine may seem easy, but it is far from a simple task. When the motor is removed there are countless wires, hoses, and cables that must be taken into account for the process to succeed–and even then our auto mechanics need to flush lines and check all remaining components before the new one can take its place! It requires extensive time, effort and precision – proving that swapping out engines isn't as straightforward as you might think.
Need to get your car back in top condition? Our experienced auto mechanics provide comprehensive services, from complex repairs to routine maintenance. So no matter what shape your ride is in, we've got you covered! Call Miller Brothers Transmission Auto Repair and Body Shop now.
Like our Facebook page for more great info about auto repair services.
Miller Brothers Transmission Auto Repair and Body Shop
7123 Tazewell Pike
Corryton, TN 37721
(865) 689-5072
https://www.millerbrosautorepair.com/

Serving Knoxville, TN and Knox County
Service areas include: All of Knox County, Corryton, Fountain City, Halls Crossroads, Powell and Knoxville