Miller Brothers Auto Body Shop works with ALL insurance companies, including Geico.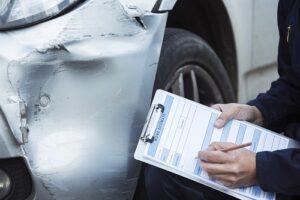 After an accident, you want the assurance that your car will be fixed quickly and accurately. Finding a collision repair shop can seem intimidating but there are ways to ensure you make the right choice. Taking some extra time for consideration before settling on one is invaluable – in order to have peace of mind knowing that professional service at an affordable cost was provided. Consider these tips when searching for the best auto body shop:
Ask for recommendations for the best collision repair shop
Finding a reliable auto body shop can be daunting. However, personal recommendations are often the best place to start when searching for one – so don't forget to ask around! If someone you know is raving about their experience with a particular business, it's worth taking note and seeing if they could meet your needs too. Just remember that research and inquiries should still take precedence no matter what referral you get; investigate thoroughly and have other options up your sleeve before making any commitments.
Check reviews
Want to ensure you find a reliable auto repair and body shop? Online reviews are your best bet! Make sure you take the time and do some research. With top sources, such as before-and-after pics of previous work and customer testimonials, seeking out high-quality service has become stress-free.
Consult Your Mechanic
There is nothing like a trusted mechanic when you're trying to find the perfect auto body shop. Not only do they manage repairs on cars every day, but their recommendations could be just what you need for finding reliable and trustworthy service. So kick off your research with an experienced opinion from someone who knows – that trusty auto mechanic!
Choose certified technicians
If you're in the market for auto repair, make sure to find an expertly qualified team. Look for certification from industry organizations such as I-CAR or automobile manufacturers like Tesla – these certifications are a mark of excellence and ensure that your vehicle is repaired only by experienced professionals according to OEM standards. Most reputable shops will proudly advertise their qualifications on their websites or within shop premises; be sure to do some research before committing!
Ask Questions
If you're weighing your options when it comes to selecting an auto body shop, be sure to get all the facts by asking pertinent questions. The best collision repair shops will not only happily provide answers but also invite inquiries—so don't hesitate!
We understand the importance of knowing what to expect when hiring a car mechanic. That's why our team is more than happy to provide written estimates and work closely with insurance companies on your behalf. In addition to offering warranties for most services rendered, you can rest assured that all vehicles are kept secure in well-lit lots equipped with 24/7 surveillance cameras ensuring lot safety measures are met at all times. From estimate process inquiries through payment policies—we've got it covered! Expect exceptional turnaround time Quickly yet dependably providing reliable service excellence each step along the way!
Trust your instincts
Don't settle for less than the best when it comes to taking care of your vehicle. Take time to select a shop that gives you peace of mind and assurance, instead of just going off reviews or certifications. If something feels wrong, trust those instincts – there are plenty more options available so find one where you feel confident they'll get the job done right!
Like our Facebook page for more great info about auto repair shops.
Miller Brothers Transmission Auto Repair and Body Shop
7123 Tazewell Pike
Corryton, TN 37721
(865) 689-5072
https://www.millerbrosautorepair.com/

Serving Knoxville, TN and Knox County
Service areas include: All of Knox County, Corryton, Fountain City, Halls Crossroads, Powell and Knoxville