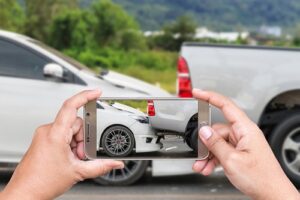 Despite making up almost a third of all crashes and nearly half of the multi-vehicle collisions, a rear end collision only rarely leads to serious bodily harm or extensive vehicular damage. Still, getting struck from behind can still cause a variety of unseen car problems that may require inspection by an experienced technician. Read on to find out what kind of issues you could face after such an accident and how best to ensure the health of your vehicle post-collision.
Understanding rear end collision
Rear-end collisions are one of the most common types of motor vehicle accidents. They happen when a trailing car's bumper makes contact with the back end of another, whether at low speeds or higher ones on highways and freeways. Often caused by distraction, sudden braking due to obstacles in front—such as pedestrians or debris–or simply stopped traffic signals can cause these incidents that have potential for serious car damage and injury.
What to do after a rear end collision
In the event that any of your vehicles get into an accident, it is vital to take a moment and check for damages. In addition, information must be exchanged with all parties involved in order to protect everyone's safety as well as one's financial and legal interests if something unexpected arises from this incident.
In the event of a rear-end collision, it is essential to check for injuries and then move any vehicles that are blocking traffic or may cause further accidents. However, be sure not to admit fault before speaking with authorities; filing an official incident report can help provide clarity on who was at fault in the accident. To ensure you have evidence of damages sustained during this time, take pictures of both your and other driver's cars as well as exchange insurance information amongst involved drivers completely – including names, phone numbers, license info., etc. Doing so will make future legal proceedings easier if necessary.
Problems to check
Don't wait for visible signs – it's important to get your car inspected after an incident even if there is no apparent damage. Unseen issues could affect the reliability of your vehicle and impact its performance over time, so be sure to have a qualified collision repair shop assess any potential problems.
Frame and bumpers
Driving with a misaligned frame can have dangerous repercussions; it could cause your car to drift off course and put extra strain on other components. Bumpers are the first line of defence against damage in high-speed collisions, absorbing shock that may otherwise reach sensitive engine parts or jostle passengers inside the vehicle. Whilst dents might be common after impact, they're often repairable without need for replacement parts – so don't let an accident bring you to a standstill!
Suspension and check engine light
After a rear-end collision, your car's suspension system can experience significant damage and impact the way you drive. If the "check engine" light turns on afterward, it could mean that your motor has been jostled out of place or experienced harm; don't hesitate to take it to an auto mechanic for further inspection!
Electrical and aesthetic damage
Modern cars come with a host of sophisticated electronics that make them safer and more efficient than ever before. Unfortunately, this same technology can be damaged in low-speed collisions or rear-end impacts, resulting in wiring issues for features like tail lights and brake lights which are essential to road safety. It's also important to remember that even if your car is functionally sound after an accident there may be cosmetic damage such as dents, scratches, or scuffs – many auto insurance policies may cover the cost of auto repairs for these minor blemishes so it pays to check the terms of yours!
Like our Facebook page for more great info about auto repairs.
Miller Brothers Transmission Auto Repair and Body Shop
7123 Tazewell Pike
Corryton, TN 37721
(865) 689-5072
https://www.millerbrosautorepair.com/

Serving Knoxville, TN and Knox County
Service areas include: All of Knox County, Corryton, Fountain City, Halls Crossroads, Powell and Knoxville