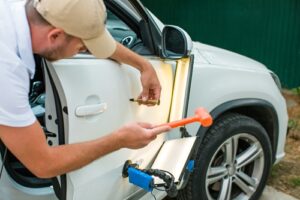 Finding the perfect auto body shop to fix your car after an accident may seem like a daunting task, but with a little time, effort, and consideration, you can ensure that your vehicle receives the best care possible during its recovery process.
The days and weeks following a car accident can be incredibly stressful, and you deserve to have your car restored to its former glory by a reliable and trustworthy service provider. So, let's dive deeper into these 6 tips on how to select the ideal Knoxville auto repair shop:
Finding The Right Auto Body Shop
Seek Recommendations from Trusted Sources
Your family, friends, coworkers, or acquaintances can be valuable sources of information when it comes to finding a reputable auto body repair shop. People often share their experiences, both good and bad, with others, so asking for referrals is a great starting point.
If someone you trust raves about the exceptional work done by a particular shop, it's worth investigating further. However, remember to conduct your own research and explore other options to ensure you make an informed decision.
Leverage the Power of Reviews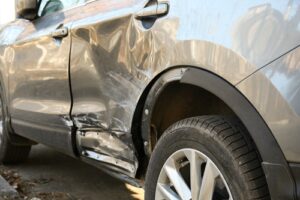 In the digital age, online reviews provide an excellent resource for assessing the quality of auto repair shops. Take the time to visit reputable review websites to gain insights into what other customers have to say about their experiences with different shops. Often, you'll find before-and-after photos and detailed descriptions of the repair work, as well as comments on the professionalism and service level provided by the shop.
My wife and I have been multiple times with our vehicles. Excellent service and they always do everything they can to help us out.
Jonathan Tipton
Had some body work done and they made it look like the accident never happened. My car was sounding awful when I dropped it off. Along with the body work I got my breaks fixed and oil change and some tires replaced. Feels like I have a new car. I will definitely be back and will also be referring people to Miller Brothers.
Consult Your Mechanic
If you have a trusted auto mechanic from Miller Brothers Transmission Auto Repair and Body Shop who has been taking care of your car, consider seeking their recommendations. Mechanics frequently interact with auto repair shops and may have valuable insights into which ones consistently deliver high-quality service. However, it's still essential to do your due diligence and conduct independent research.
Look for Certified Technicians
The best auto repair shops employ certified professionals recognized by industry associations. These certifications are an indicator of the expertise and skills of the technicians. Additionally, some repair shops may hold certifications from specific car manufacturers. These certifications are often proudly displayed on the shop's website or within their premises, showcasing their commitment to quality.
Ask the Right Questions
Don't hesitate to ask pertinent questions when evaluating potential auto repair shops. A reputable shop will not only answer your queries but will also welcome them. Here are some key questions to consider:
Do you provide written estimates?
What warranty options do you offer?
Do you have experience working with insurance companies?
Could you explain your estimate process?
How do you ensure the security of the vehicles in your care?
What is the expected turnaround time for repairs?
What are your payment policies?
It's also advisable to ask specific questions related to the repairs your car needs, such as the shop's experience with similar jobs and whether they can restore your vehicle to its pre-accident condition.
Trust Your Instincts
Regardless of positive reviews or impressive certifications, if you don't feel confident leaving your car with a particular shop, it's essential to listen to your instincts. You deserve peace of mind, knowing your vehicle is in capable hands and that the chosen auto body shop in Knoxville TN will complete the repairs correctly the first time.
If something doesn't feel right or if you have doubts about a shop's integrity, consider exploring other options. There are plenty of reputable shops available, and it's worthwhile to invest the time and effort in finding the one that best suits your needs and preferences.
In conclusion, choosing the right auto repair shop after an accident is a crucial decision that can significantly impact your car's restoration and your overall satisfaction with the repair process. By following these guidelines and conducting thorough research, you can ensure that your vehicle receives top-quality care, helping you navigate the stressful aftermath of a car accident with confidence.
At our auto repair facility, we take pride in offering comprehensive collision repair services in Knoxville TN. Our commitment to providing reliable estimates, delivering exceptional bodywork, and assisting with rental cars and insurance matters sets us apart.
My wife and I have been multiple times with our vehicles. Excellent service and they always do everything they can to help us out.
If you have any questions or require an estimate, please don't hesitate to contact Miller Brothers Transmission Auto Repair and Body Shop. Your satisfaction and your car's well-being are our top priorities.
Like our Facebook page for more information about auto services.
Miller Brothers Transmission Auto Repair and Body Shop
7123 Tazewell Pike
Corryton, TN 37721
(865) 689-5072
https://www.millerbrosautorepair.com/
Serving Knoxville, TN and Knox County
Service areas include: All of Knox County, Corryton, Fountain City, Halls Crossroads, Powell and Knoxville