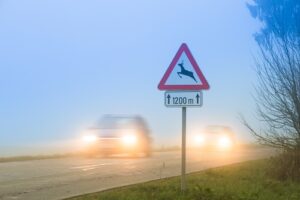 During deer season, which happens in the fall from October to December, it gets dark early, and the risk of hitting a deer or other animals on the road goes up. If this happens, it can cause hidden and long-lasting damage to your car, especially if you don't get it fixed correctly. In this post, we'll explain the kinds of damage that might occur if you hit a deer while driving and when to get collision repairs. 
Broken Lights: When you hit a deer, your car's headlights and fog lights can get damaged. These lights help you see at night and in bad weather. If they break, you might need to replace the covers and bulbs. Sometimes, the fog lights are on the front bumper, which can also get damaged.
Bumper Trouble: Your car's bumper is like a protective bar at the front. It's often made of plastic or fiberglass and can easily get damaged in a collision. The bumper cover is the part you see, and it's not too hard to replace. But the bumper itself might need professional help from Miller Brothers Auto Repair. If you have a truck, you might need to replace other things on the front too, like brush guards or bull bars.
Windshield Damage: Sometimes, a deer might hit your windshield, causing it to break or crack. This can be dangerous because your windshield keeps things outside from getting inside. If your windshield breaks, vacuum up any broken glass inside your car to prevent further damage. Then, either get it fixed or replaced, depending on the size of the damage.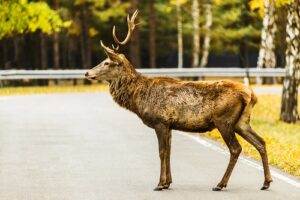 Hood Dents: The front part of your car, called the hood, can also get damaged when you hit a deer. This can be a problem because the hood protects the engine and other important parts underneath. Small dents can be fixed, but if it's really bent, you might need a new hood.
Engine and Transmission: The most serious damage can happen under the hood. For example, if the radiator gets punctured, it can cause a coolant leak that can hurt the engine. So, check for any leaks after hitting a deer. Your car's transmission, which helps it move, is also under the hood and might get damaged.
Brakes: If you try to stop quickly to avoid hitting a deer, you can damage your brakes. Signs of brake damage include the brake pedal going too low, shaking or wobbling when you brake, squeaky noises, the car pulling to one side, or the ABS warning light coming on. If you notice any of these signs, get your brakes checked.
Shock Absorbers and Struts: When you swerve to avoid a deer, you might hurt your car's shock absorbers and struts. These parts help keep your car steady and safe to drive. If they're damaged, it can affect your car's control, comfort, and safety.
After hitting a deer, contact your insurance company, as your policy might cover some of the repair costs. Also, take pictures of the accident scene and report it to the authorities. Then, bring your car to our auto repair shop in Knoxville TN, and we'll take care of the problems for you.
Call Miller Brothers Transmission Auto Repair and Body Shop now, and let us take care of your car maintenance and repairs.
Like our Facebook page for more information about auto services.
Miller Brothers Transmission Auto Repair and Body Shop
7123 Tazewell Pike
Corryton, TN 37721
(865) 689-5072
https://www.millerbrosautorepair.com/
Serving Knoxville, TN and Knox County
Service areas include: All of Knox County, Corryton, Fountain City, Halls Crossroads, Powell and Knoxville