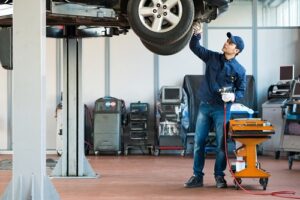 Mechanics are the go-to resource when caring for your car, and they have witnessed an array of questions over their years in practice. From car repair shops to auto salvage spots, anyone who works with cars has a well-rounded perspective on common queries – so don't be afraid to ask away!
As an auto mechanic, customers come to you with various questions – from warranties and references to repair manual queries. By knowing the answers ahead of time, you'll be ready for whatever comes your way!
Common Questions To Car Repair Shops
The Cost
Cost can be a significant determining factor when entrusting your car to the hands of an expert. Whether you're receiving mechanical or bodywork services, everyone wants to ensure they get the best value for their money.
Warranty Coverage
When it comes to the cost of repairs, those with warranty coverage typically have peace of mind that all essential services are taken care of – yet rare is the case where an automotive body shop policy covers damages caused by runaway shopping carts.
Turn Around
Although we understand the desire for fast repair, providing top-notch auto service requires some time. Rest assured that our team is working diligently to ensure your vehicle returns to tip-top shape as soon as possible!
Unusual Sound
Worries can quickly mount when strange noises arise from beneath the hood. For some, this leaves them feeling powerless and overwhelmed as they search for answers to combat a potentially serious problem with their vehicles.
The Source Of The Problem
Car owners need to stay ahead with maintenance tasks and can find comfort in car repair manuals. But if a significant malfunction happens, self-diagnosis can be an arduous process that's difficult for drivers and mechanics alike. Trying to satisfy each party while reaching proper conclusions takes time – sometimes longer than expected!
Necessary Auto Repairs
Regarding car maintenance, there can be a lot of skepticism around mechanic recommendations. However, mechanics are experts when assessing the health and condition of your vehicle – so before you doubt them outright, consider that their advice may very well be part of an effective solution for keeping your car in tip-top shape!
The Result
After a major collision, it's easy to think your car has been completely damaged beyond repair. However, body shop mechanics can often salvage even the worst wrecks with the right tools and expertise. From Bondo fillers and dent hammers to specialized equipment – these professionals have an array of options available to restore vehicles to pristine condition!
Second Opinion
Are you exploring other options? Shopping around for a second opinion is common in big purchases like auto repairs. Seeking out multiple bids can help ensure that the price quoted fits with industry standards while also giving peace of mind in knowing one isn't overpaying.
Auto mechanics in Corryton, TN often hear some bizarre questions – many entertaining, others helpful in understanding what to ask or not when taking your car for a check-up. Such inquiries are the perfect way to get an insightful glimpse into how best you can care for your vehicle!
Like our Facebook page for more great info about auto repairs and maintenance.
Miller Brothers Transmission Auto Repair and Body Shop
7123 Tazewell Pike
Corryton, TN 37721
(865) 689-5072
https://www.millerbrosautorepair.com/

Serving Knoxville, TN and Knox County
Service areas include: All of Knox County, Corryton, Fountain City, Halls Crossroads, Powell and Knoxville