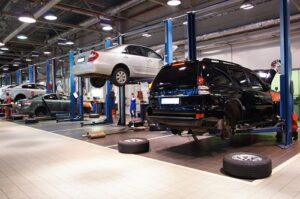 If your car has been damaged, whether it's a minor ding or a major collision, you'll need an auto body repair shop. Finding the right one can be tricky, but here are some easy-to-understand tips to help you make a good choice:
Finding The Best Auto Body Repair Shop
Get Recommendations
Word of mouth is a powerful way to find a trustworthy auto body repair shop. Talk to your friends, family, and neighbors who may have had similar repair work done on their vehicles. Their personal experiences and recommendations can provide valuable insights into the quality of service you can expect.
Additionally, consider checking online platforms or reading reviews on websites dedicated to auto repair services. When reading online reviews, pay attention to how negative comments were resolved, as this can reveal a shop's commitment to customer satisfaction.
You Don't Have to Use Your Insurance's Choice
Many insurance companies have a list of "direct repair programs" or preferred repair shops that they suggest you use. However, it's essential to know that you have the freedom to choose the repair shop you trust the most. You should feel comfortable and confident with the repair center you select, as the quality of workmanship and customer service are crucial factors.
Ask Questions
Don't hesitate to ask questions when evaluating potential auto body repair shops. This is your opportunity to gather essential information to make an informed decision. Some questions to consider include:
Are the technicians I-CAR certified? (I-CAR certification indicates training and expertise in auto collision repair.)
What is the estimated start date and duration of the repair?
Do you have the necessary parts in stock, or will there be delays in ordering them?
How frequently will you provide progress reports on the repair status?
Is a loaner car available, or do you have a rental service on-site or nearby?
What security measures are in place to protect my vehicle during the repair process?
Look for Manufacturer Certification
Your vehicle's make, model, and year can significantly affect the repair process. It's crucial to choose a repair shop that is certified to work on your specific vehicle. This certification ensures that the shop has the proper equipment, training, and access to genuine manufacturer parts.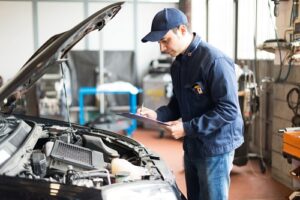 Some car manufacturers, like Porsche, only sell parts to certified shops for their vehicles. Knowing whether the shop uses original equipment manufacturer (OEM) or aftermarket parts is also essential. Many car owners prefer OEM parts, as they are produced by the vehicle's manufacturer and often offer a higher level of quality and compatibility.
Get Estimates in Writing
When you approach an auto body repair shop like Miller Brothers Transmission Auto Repair and Body Shop, ask for a written estimate of the repair costs. Reputable shops should provide this service for free. The estimate should outline the required repairs and detail the steps the repair center will take to restore your vehicle.
A thorough estimator may also perform a preliminary cleaning of your car to ensure that hidden damage is not missed. All the information, along with photographs of the vehicle, should be documented and shared with both you and your insurance company.
Ask for a Shop Tour
Visiting the auto repair shop in person can offer valuable insights into its professionalism and capabilities. Look for certifications displayed in the reception area, such as manufacturer-specific certifications. Additionally, don't hesitate to request a tour of the shop's work areas.
A well-organized and clean workspace is a good sign of attention to detail and quality workmanship. Many shop owners take pride in showcasing their facilities and processes to potential customers.
Be Prepared for Wait Time
It's essential to understand that auto repairs, even seemingly minor ones, can be time-consuming. The painting process alone can take up to three days, including sanding, priming, painting, sealing, and drying between each step. Many modern cars have unibody construction, which means that repairs often involve extensive work beyond just touching up a single spot.
Additionally, shipping time for parts and the recalibration of advanced safety features, such as cameras and sensors, can further extend the repair timeline. On average, you can expect an average repair to take about 10 working days. Patience is key to ensuring that your vehicle receives the necessary care and attention to detail it deserves.
By following these expanded guidelines, you'll be better equipped to choose an auto body repair shop in Knoxville TN that not only meets but exceeds your expectations, ensuring a successful and satisfactory repair process for your vehicle.
Take the first step toward a worry-free auto repair experience. Choose the right auto body shop today for top-notch service and peace of mind! Call Miller Brothers Transmission Auto Repair and Body Shop now.
Like our Facebook page for more information about auto services.
Miller Brothers Transmission Auto Repair and Body Shop
7123 Tazewell Pike
Corryton, TN 37721
(865) 689-5072
https://www.millerbrosautorepair.com/
Serving Knoxville, TN and Knox County
Service areas include: All of Knox County, Corryton, Fountain City, Halls Crossroads, Powell and Knoxville