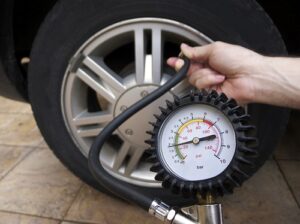 It's time to go on a road trip. You've planned your route, reserved hotels and created a list of what you must do. Miller Brothers Auto Repair wants to remind you that car care is important in summer road trip planning. Check your car's readiness for summer travel using this checklist.
Summer Car Care Checklist
1. Check Tire Pressure
Check all the tires, including the spare tire. Check for sidewall bulges, cuts or gouges. Get a quarter coin and insert it upside down into each tire's grooves to check the tire tread. It's time to replace your tires if you can see the head of George Washington.
Tire pressure should be checked when tires are cool, and the vehicle is idle. As needed as per the manufacturer's instruction, inflate the tires to the recommended pressure. The recommended tire pressure is in the owner's guide and on the door jamb sticker. Refrain from using the number on the sidewall of the tire.
2. Feel and listen to the brakes
Bring your car to an auto shop in Knoxville TN for a brake inspection if you feel or hear grinding noise when applying brakes. The brake system will be checked for leaks, and all the components, such as the pads, rotors, and shoes, will be inspected, too.
3. Test and secure the battery
Make sure the cable connections and hold-down hardware are secure. Have a professional auto mechanic do a battery check to determine the remaining capacity.
4. Refill engine oil and fluids
To ensure safe car operation, check that all fluids, including engine oil, brake, transmission, and power steering, are at the right levels. Use only the fluids that are listed in your owner's guide if they need to be refilled. Newer models of cars may come with sealed automatic transmissions that do not require a dipstick or fluid for their electric power steering systems.
5. Replace wiper blades, and refill windshield cleaner
Rubber wipers will naturally degrade over time. Replace the blades if the wipers streak or do not clear the glass thoroughly. Fill the windshield washer reservoir with fluid designed to remove insects, dirt and other debris. Test the nozzles to ensure they spray correctly.
6. Check the belts and hoses
The engine water pump and accessories like the alternator or air conditioning compressor are powered by reinforced rubber drive belts. You should replace any that have cracks, are glazed over or are frayed.
Modern multi-ribbed or drive belts do not easily show signs of wear. Drive belts should be replaced every 60,000 miles as a general rule. Replace radiator hoses that are worn, brittle, bulging, or excessively softer. Check for leaks at the radiator, water pump and hose clamps.
7. Cool down your AC
Test drive the car with the air conditioning running. Take your car to an auto repair shop for a diagnosis if you notice that the cooling capacity has decreased. Have the cabin filter checked and replaced if necessary.
8. Replenish emergency kit supplies
Keep a fully-stocked kit of emergency supplies in your car. Include a flashlight, extra batteries, drinking water, snacks and non-perishable food for humans and pets, cables, emergency flares and reflectors. Also include a raincoat, an essential toolkit, duct tape, gloves, paper towels, and shop rags.
Plan ahead for auto maintenance or repair service if you need it. Before you go on the road, call Miller Brothers Transmission Auto Repair and Body Shop and have your vehicle serviced.
Like our Facebook page for more great info about auto services.
Miller Brothers Transmission Auto Repair and Body Shop
7123 Tazewell Pike
Corryton, TN 37721
(865) 689-5072
https://www.millerbrosautorepair.com/
Serving Knoxville, TN and Knox County
Service areas include: All of Knox County, Corryton, Fountain City, Halls Crossroads, Powell and Knoxville