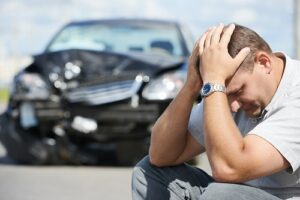 Experiencing a car accident can be unsettling, but having a clear understanding of the repair process can help alleviate stress. Whether you're currently dealing with the aftermath of an accident or searching for the right auto body shop, this step-by-step guide, expert tips, and list of frequently asked questions about car accident repair will provide you with the knowledge you need for a smoother experience.
Car Accident Repair: Steps To Take
1. Ensure Safety & Call for Help
Immediately after an accident, prioritizing safety is crucial. If you're physically able to, move your vehicle out of the flow of traffic to a safer location. Once you're safe, dial 911 to report the accident. Depending on the laws of your state, involving the police might be mandatory, regardless of the accident's severity.
The responding officer will document the accident, which could be required by your insurance company. If an officer cannot arrive at the scene, you can file a report at the nearest police station.
2. Document the Scene
Capturing the scene's details is essential for insurance claims and legal purposes. Take photographs of all vehicles involved, noting their positions and any visible damage. Document the weather conditions, the state of the road, and the lighting at the time of the accident.
If you or anyone else has sustained physical injuries, photograph those as well. If there's another driver involved, exchange insurance information and contact details to facilitate communication and claims processing.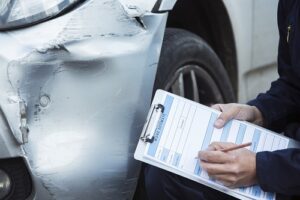 3. Don't Admit Fault
While interacting with others at the scene, be honest about the facts surrounding the accident. However, avoid admitting fault, as the responsibility for determining who is at fault lies with the insurance companies and potentially legal authorities. Providing a factual account without expressing opinions is recommended to avoid complications during the claims process.
4. Seek Medical Attention
Even if you believe you haven't sustained injuries, it's advisable to seek medical attention after an accident. The adrenaline rush from the incident can mask some injuries that might become apparent later.
If there are visible injuries, ensure you receive medical care promptly. If the accident was minor and you feel fine, it's still a good idea to schedule an examination with your primary care doctor to address any potential issues that might not be immediately apparent.
5. Contact Your Insurance Company
Once you're safe and have the necessary information, promptly notify your insurance company about the accident. This step is vital to initiate the claims process. Your insurance representative will guide you through the next steps and provide insight into what to expect as the process unfolds.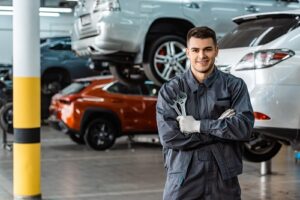 6. Find an Auto Body Shop
Your insurance company might offer a list of preferred auto body shops, but you have the flexibility to choose the one that suits you best. It's important to look for a shop that provides free and swift estimates, employs I-CAR certified technicians, offers a lifetime limited warranty for repairs, and maintains a rigorous quality control process. While you can opt for a recommended shop or explore your options, ensure the shop meets these criteria for a satisfactory repair experience.
Car Repair Process: From Start to Finish
Estimate: Once your car is at the auto repair shop, technicians will thoroughly assess the damage to provide an initial cost estimate. This estimate offers insights into the extent of the damage and the potential cost of repairs.
Insurance Approval: The shop submits the estimate to your insurance company for approval. While there may be some negotiation between the shop and the insurance company, you're not usually heavily involved in this phase.
Dropoff: Once the estimate is approved, you'll leave your vehicle at the repair shop for the repairs to begin.
Disassembly: Skilled auto mechanics will carefully dismantle affected parts of your vehicle, creating a detailed plan for the repairs ahead.
Order Parts: With the repair plan in place, necessary replacement parts are ordered. This step often involves coordination with your insurance company to secure high-quality parts at the best prices.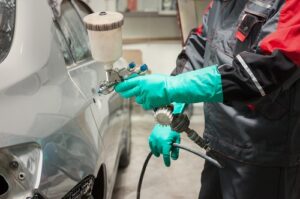 Repairs: Structural and mechanical repairs commence, addressing the specific damages outlined in the repair plan. In most cases, repairs can begin even before replacement parts arrive.
Painting: A fresh coat of paint is applied to restore your vehicle's appearance to its factory finish.
Reassembly: After parts are painted and prepared, technicians reassemble your vehicle, ensuring all components fit seamlessly.
Detailing: The repaired areas and the entire vehicle are thoroughly cleaned and detailed to enhance its overall appearance.
Final Inspection and Delivery: The repair shop's quality control team conducts a meticulous inspection to verify that all repairs meet high standards. Once approved, your vehicle is ready for pickup, and you can confidently drive it again.
Expert Tips for a Successful Repair Experience
Choose Your Repair Shop: While your insurance company might suggest preferred shops, remember that the choice is ultimately yours. You're free to select a shop that aligns with your preferences.
Obtain Multiple Estimates: To make an informed decision, consider getting estimates from various car repair shops. However, prioritize quality over the lowest cost, as the cheapest option might not ensure the best repairs.
Understand Replacement Parts: Familiarize yourself with your insurance policy's stance on replacement parts. Depending on your policy, you might prefer new, original equipment manufacturer (OEM) parts over aftermarket alternatives.
Let the Repair Shop Communicate: Once you've initiated the claims process, allow the repair shop to handle communications with your insurance company. They're equipped to manage the details efficiently.
Stay Informed about Additional Damage: During the repair process, technicians might uncover extra damage. You can request updates from Miller Brothers Auto Repair to avoid surprises when you collect your repaired vehicle.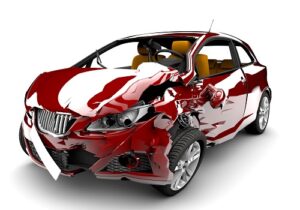 Car Accident Repair FAQs: Your Questions Answered
Q: Do I need an estimate appointment?
A: Typically, an appointment isn't required for estimates. Check the shop's operating hours and visit accordingly.
Q: Should I get multiple estimates?
A: While some insurance companies request multiple estimates, you can coordinate with your preferred repair shop to streamline the process.
Q: What if repairs exceed my car's value?
A: If the repair costs surpass your car's value, your insurance company decides whether to repair the vehicle or provide compensation based on its value.
Q: What if I'm at fault for the damage?
A: Depending on whether you're in a fault or no-fault state, your responsibilities and insurance implications will differ.
Q: What if the shop and insurance disagree on costs?
A: In case of cost disagreements, let the auto repair shop take the lead in resolving the issue with your insurance company.
Q: Can I get a rental car during repairs?
A: Your chosen repair shop can help arrange a rental car, but review your insurance policy to understand coverage limits and terms.
Q: What if my leased car is in an accident?
A: Leased cars follow specific repair guidelines, often requiring new, OEM parts. If your car is deemed a total loss, your insurer compensates the leasing company.
If you're seeking a reliable auto repair shop in Corryton TN, don't hesitate to reach out for assistance. Your chosen repair shop can play a crucial role in ensuring a successful car repair experience.
Call Miller Brothers Transmission Auto Repair and Body Shop now and let us help you with your auto repair and maintenance needs.
Like our Facebook page for more information about auto services.
Miller Brothers Transmission Auto Repair and Body Shop
7123 Tazewell Pike
Corryton, TN 37721
(865) 689-5072
https://www.millerbrosautorepair.com/
Serving Knoxville, TN and Knox County
Service areas include: All of Knox County, Corryton, Fountain City, Halls Crossroads, Powell and Knoxville