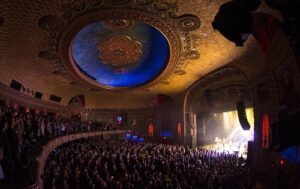 The magnificent Tennessee Theatre first opened its doors on October 1, 1928 and was hailed as "the South's most beautiful theatre." When the first patrons stepped inside downtown's "movie palace" to see their favorite stars on the silver screen, they paid only 40 cents for matinees and 60 cents for evening shows (children paid only 10 and 15 cents).
Designed by Chicago architects Graven & Mayger, the Theatre has a Spanish-Moorish style interior that incorporates elements from all parts of the world: Czechoslovakian crystals in the French-style chandeliers, Italian terrazzo flooring in the Grand Lobby, and Asian influences in the carpet and drapery patterns. It was one of the first public places in Knoxville to have air-conditioning.
Its 90-year history includes highs and lows, from when movies reigned as the chosen form of entertainment to the decline and uncertain future of downtown. Periodic closings in the late 1970s gave way to glimpses of a brighter outlook when the Theatre was purchased in 1981 by James A. Dick. The Theatre then began its gradual shift in programming from a single-screen movie theater to a multi-use performing arts venue, which prolonged its existence but exaggerated its many shortcomings.
In 1996, the Historic Tennessee Theatre Foundation, a non-profit organization, was founded with the purpose of preserving, maintaining, and operating the Theatre. The Foundation's Board of Directors was responsible for overseeing and raising funds for restoration and renovation of the building, which began in June, 2003. The former movie palace reopened on January 15, 2005 as a world-class performing arts center—the result of a $25.5 million renovation and restoration project funded through public and private donations.  
Listed on the National Register of Historic Places and honored as the Official State Theatre of Tennessee, today's Tennessee Theatre has something for everyone: classical music, vintage films, dance, Broadway, and stellar performances by today's hottest musicians and yesterday's favorites. Local arts organizations such as the Knoxville Symphony Orchestra, Knoxville Opera, and UT Cultural Attractions use the Tennessee Theatre throughout the year. The Theatre is also the site of special events; wedding receptions, private parties, corporate meetings, and other functions are enhanced by its magnificent interior. Under the guidance and oversight of the Historic Tennessee Theatre Foundation, the Tennessee is managed and operated by A.C. Entertainment.
Be sure to visit other attractions in Tennessee such as the Sunsphere, Zoo Knoxville, Knoxville Museum Of Art, East Tennessee Historical Society, Navitat Knoxville, Three Rivers Rambler, Ijams Nature Center, Blount Mansion, James White's Fort.
Miller Brothers Transmission Auto Repair and Body Shop
7123 Tazewell Pike
Corryton, TN 37721
(865) 689-5072
https://www.millerbrosautorepair.com/
Service areas include: All of Knox County, Corryton, Fountain City, Halls Crossroads, Powell and Knoxville