East Tennessee Historical Society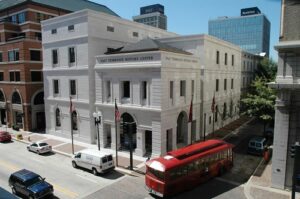 The East Tennessee Historical Society is one of the most active private historical organizations in the state. We specialize in finding creative ways to introduce the public to the fascinating world of history. 
Lectures, tours, award-winning exhibits, family heritage programs, genealogy classes, and student and teacher education appeal to people of all ages.
Recognizing that East Tennessee's history, heritage, and geography are distinct from the rest of the state, the East Tennessee Historical Society provides services and programs uniquely tailored to the region. ETHS partners with and promotes the history and events of organizations and sites across our 35 counties. We have 45 affiliate chapters across the region.
The East Tennessee Historical Society was established in 1834 as the East Tennessee Historical and Antiquarian Society.  The guiding spirit behind the founding was Dr. J.G.M. Ramsey, son of a pioneer family, the author of one of the state's first histories, and also a founder of the Tennessee Historical Society. Since 1924, ETHS has been an adjunct to and headquartered with the Calvin M. McClung Historical Collection of the Knox County Public Library. The two operate as a private/public partnership to preserve and share the history of East Tennessee.
The East Tennessee Historical Society's Museum of East Tennessee History opened in 1993. The popularity of the museum, a growing artifact collection, and increased research audiences spurred an expansion of the East Tennessee History Center and generated a campaign for a new, first-class Museum of East Tennessee, which opened in 2008.
Be sure to visit other attractions in Tennessee such as the Sunsphere, Zoo Knoxville, Knoxville Museum Of Art, Navitat Knoxville, Three Rivers Rambler, Ijams Nature Center, Tennessee Theatre, Blount Mansion, James White's Fort.
Miller Brothers Transmission Auto Repair and Body Shop
7123 Tazewell Pike
Corryton, TN 37721
(865) 689-5072
https://www.millerbrosautorepair.com/
Service areas include: All of Knox County, Corryton, Fountain City, Halls Crossroads, Powell and Knoxville