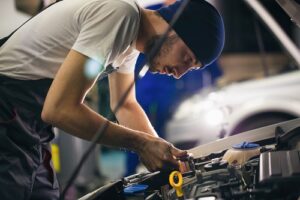 If you're wondering where to go for an oil change, let's explore why your mechanic is the better choice. Many vehicle owners understand the importance of regular oil changes for their cars or trucks. However, they may not realize the significance of having the right person perform this task.
While express shops specializing in oil changes may seem like the obvious choice, there are several reasons to consider a full-service auto repair shop instead. These reasons include competitive prices, expert service, and comfortable waiting areas. Now, let's delve into the details explaining why your mechanic is the ideal professional to change your oil.
Your regular auto repair shop in Knoxville TN may offer excellent prices or coupons. Although express shops are known for their deals, it doesn't mean they are always more affordable. Many full-service shops provide coupons or have great everyday prices for oil changes. Establishing a relationship with a trusted mechanic not only brings peace of mind but also leads to better outcomes when you need assistance.
Where Should You Get An Oil Change?
Oil changes are an important time for a vehicle check-up. Fresh oil ensures your engine runs efficiently, reducing wear and tear while improving fuel efficiency. During oil changes, your mechanic can perform a comprehensive inspection to identify any potential problems.
Certified mechanics like Miller Brothers in Auto Repair conduct a thorough examination. If they spot non-urgent issues, they can give you a heads-up, and address them during the next oil change. In urgent cases, they will recommend immediate repairs to prevent unexpected breakdowns.
Although express shops may offer limited checks, taking your vehicle directly to your mechanic eliminates the need for multiple stops. Your mechanic can change your oil and handle any repairs on the same day, saving you time and the inconvenience of emergency repairs that disrupt your schedule.
Express shops aren't required to employ certified mechanics. While oil change facilities and personnel are exempt from licensing, any person repairing motor vehicles for compensation must be certified by the state.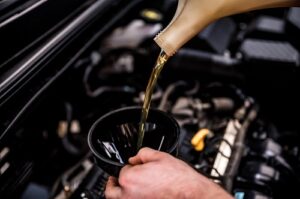 Although some express shops hire technicians who have completed certification programs, licensed mechanics are not a prerequisite for oil changes. Express shops often provide in-house training, meaning their technicians may have limited experience.
In contrast, full-service repair shops employ state-certified mechanics with extensive knowledge. These experienced professionals are more likely to seek employment at full-service shops where they can utilize their wide-ranging expertise.
Scheduling an appointment can save time. Express shops may lure you with their no-appointment-needed policy, but the reality is that you might end up waiting in line until it's your turn.
Suddenly, what was intended to be a quick stop becomes an hour-long wait. By scheduling an appointment with your mechanic, you can avoid the hassle of waiting in line. You'll bring your car in at a designated time when the mechanic is available, ensuring efficient service.
When caring for your truck or car, it's essential to have a mechanic you trust for professional servicing on a regular basis. When you bring your vehicle to a repair shop for an oil change, they will have complete records of your vehicle history. If your vehicle requires additional maintenance, they can inform you and ensure everything is taken care of during your visit, eliminating the need for multiple appointments.
Moreover, in the case of emergencies, your mechanic can handle repairs on the spot while you relax in a comfortable waiting room. Having your regular mechanic change your oil builds trust and reduces emergencies since they understand what to look for and can provide proactive service to prevent problems.
For your next oil change, bring your car to a full-service repair shop you trust. Give Miller Brothers Transmission Auto Repair and Body Shop a call now.
Like our Facebook page for more information about auto repairs.
Miller Brothers Transmission Auto Repair and Body Shop
7123 Tazewell Pike
Corryton, TN 37721
(865) 689-5072
https://www.millerbrosautorepair.com/
Serving Knoxville, TN and Knox County
Service areas include: All of Knox County, Corryton, Fountain City, Halls Crossroads, Powell and Knoxville