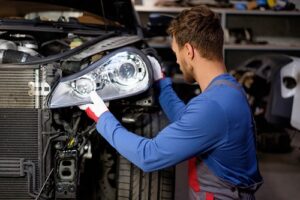 Nobody wants to have their car rendered undrivable after a collision or another damaging event. You'll need an auto body shop that you can trust, whether you had an accident, collided with a car or a deer while driving, or were caught in a hailstorm. It's vital to research an auto body shop to ensure that they are qualified and stand behind their work.
Auto Body Shop: Where can I get my car repaired?
You have two options if your car requires bodywork: the collision repair center of a dealership, or an independent autobody shop. Consider these factors when making a decision.
Dealer collision repair center
Not all dealerships offer auto body shops in Knoxville, TN. It may not be feasible to drive there if the nearest dealer with a shop is more than two hours away.
Expertise: Dealers have a greater understanding of the brands and models that they sell as compared to independent shops who work on multiple vehicle types.
Dealerships can obtain factory-authorized components from their local distribution centers.
Independent auto body shop
Location: It may be easier to find an independent collision repair shop near you than a dealer center.
Cost: You may pay less for repairs if independent shops use parts that are cheaper than those from the factory.
You should consider timing. "If the dealership collision center is overloaded, it may be better to find another body shop in your area who can fix your vehicle more quickly."
Expertise: An independent body shop may repair many different makes of cars, rather than just one make as a dealer collision center does. This is not necessarily a bad thing. He says it is important to make sure the auto repair shop has the right qualifications to work on your car.
How to choose an auto body shop
You ask the following questions when researching possible body shops to help make a decision.
1. When can you begin working on my car?
You may want to look for a shop that can fix your car sooner.
2. How long will the process take?
You can plan alternate transportation if you know how long it will take to repair your vehicle. If your auto policy covers rental car reimbursement, you may be able to arrange for alternate transportation. If your car is damaged in an accident, you may be able to get a rental vehicle up to a specified amount and for a set number of days.
3. What is the warranty for the work?
If something goes wrong with your vehicle after you get it back, you want to be sure that the shop will stand behind its work.
4. How to color match?
Auto body shops are able to match colors perfectly today thanks to computer-driven color matching. Metallic and dark colored cars are more difficult to match. Ask the mechanics how they can match your car's color when you take it in for repair.
5. Who pays for repairs?
You can save money if you pay for repairs. Check if the shop you choose will cover the costs if your auto insurer is paying for the repairs. The insurance company can decide where you take your vehicle to be repaired.
6. Use factory-authorized parts or aftermarket ones?
Aftermarket parts are often the only option for older vehicles. You'll have to trust the auto body shop for quality assurance if you choose aftermarket parts.
7. Are you a certified collision facility?
Automobile manufacturers are taking steps to ensure mechanics do repairs correctly. There are so many electronic parts in cars today. Many automobile manufacturers have created certified collision repair networks, where body shop employees can take courses and have access to materials to help them better understand today's complex cars.
8. How comfortable do you feel?
Visit the store to talk to the staff to make sure that you are happy with your choice. Answer your questions fully? Are they polite? You need to take the time necessary to find the best solution.
Like our Facebook page for more great info about auto shops.
Miller Brothers Transmission Auto Repair and Body Shop
7123 Tazewell Pike
Corryton, TN 37721
(865) 689-5072
https://www.millerbrosautorepair.com/

Serving Knoxville, TN and Knox County
Service areas include: All of Knox County, Corryton, Fountain City, Halls Crossroads, Powell and Knoxville