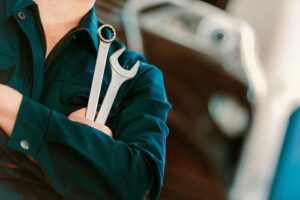 We know car accidents can be scary. And when you find yourself in this situation, one of the many things you need to do is find a reliable collision repair shop. Here are some tips to help you get start.
#1 Ask People You Trust
When you need a good car fixer-upper, it can help to ask your friends and family for advice. They can tell you if a shop is good or not based on what they've heard. People usually trust their friends and family more than online reviews.
So, if you want a good car fix, ask your loved ones for ideas.
#2 Read What Others Say
Checking out what other customers say is a smart way to find a good auto repair shop. You can read what people think on websites like Google, Yelp, and Facebook. This helps you learn if the shop does good work, treats customers well, and has fair prices.
#3 Make Sure They Know What They're Doing
Fixing cars is a job for experts. This makes sure your car gets fixed right. Certified shops follow safety rules, which keeps workers safe. Certifications like I-CAR and ASE show they know their stuff. This means your car is in good hands and will be fixed right.
But remember, it's not just about certifications. The mechanic's experience and the shop's prices matter too.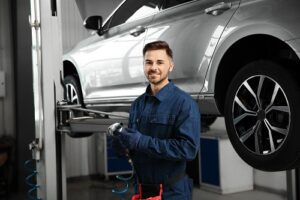 #4 Don't Let Your Insurance Company Decide
Your insurance company can't make you go to a certain repair shop. It's against the rules. You can choose where to go. So, do your research. Check reviews, see if they've worked on cars like yours, and check how they treat customers.
Insurance won't pay for car repairs, so you want a good shop to do the job.
#5 Ask About the Process and Time
Before you pick a car repair shop, ask how they work and how long it takes. Car repairs can be complex and take time to do right. So, ask about their process to be sure they'll fix all the problems.
You should also know how long it will take. A good shop will tell you.
#6 Get More Than One Price
It's smart to compare prices from different car repair shops. This can save you money. Labor costs and parts prices can vary. Getting multiple quotes helps you make a smart choice.
Plus, comparing quotes helps you spot any problems. If one quote is way lower or way higher than the others, it could be a red flag. They might be cutting corners or overcharging you.
#7 Trust Your Instincts
If something feels off about an auto body shop, trust your gut. Look for warning signs like a bad reputation, unskilled workers, a very low price, a refusal to explain costs, or pressure to use certain parts.
Your gut feeling matters. If a shop makes you uncomfortable, keep looking. Trusting your instincts means watching for red flags and using them to make a decision.
FAQs for Picking the Right Car Repair Place
Still have questions? Check if your question is answered here. If not, feel free to reach out to us directly.
What should I think about when picking a car repair shop?
Car repair shops in Corryton, TN can vary in quality. Think about their reputation, the parts they use, the quality of their work, their prices, and how close they are to you.
Where should I look for a good car repair shop?
You can find a good car repair shop like Miller Brothers Transmission Auto Repair and Body Shop by asking friends, reading reviews, visiting shops, or doing research online.
What questions should I ask a car repair shop before choosing them?
You should ask about the parts they'll use, what repairs they'll do, how much it'll cost, how long their warranty is, and if they offer mobile estimates or extra services.
Call Miller Brothers Transmission Auto Repair and Body Shop now if you're looking for a reliable auto shop that can take care of all your car-related problems.
Like our Facebook page for more information about auto services.
Miller Brothers Transmission Auto Repair and Body Shop
7123 Tazewell Pike
Corryton, TN 37721
(865) 689-5072
https://www.millerbrosautorepair.com/
Serving Knoxville, TN and Knox County
Service areas include: All of Knox County, Corryton, Fountain City, Halls Crossroads, Powell and Knoxville