Miller Brothers Auto Repair is a Geico approved auto collision shop in Knoxville TN.
Getting involved in an auto accident or owning an older vehicle in need of a fresh paint job can be quite stressful. Finding the right auto painting services in Knoxville may seem like a challenge, but look no further than Miller Brothers Auto Body. We offer top-notch auto painting services delivered by highly trained professionals.
State-of-the-Art Techniques and Equipment
At our auto body shop, we pride ourselves on employing the latest techniques and utilizing advanced painting sprayer equipment. This ensures that we not only complete the job efficiently but also deliver the finest finishes for your vehicle.
Thorough Vehicle Preparation
Whether your car has been damaged in an accident with visible paint chips and cracks, or it simply requires sanding before painting, we take all the necessary precautions. Our expert technicians will meticulously remove any imperfections, sand down the surfaces, and ensure a smooth canvas for the painting process. This attention to detail not only results in a flawless finish but also enhances the longevity and shine of the paint job.
Perfect Color Matching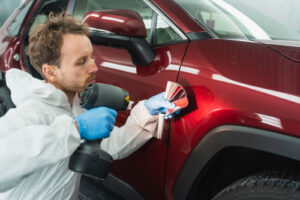 When you entrust your vehicle to our auto painting shop, we make it a priority to achieve a perfect color match. Whether you desire a new color or need to replicate an obscure shade, we offer a wide selection of shades, tones, and unique color options. With our extensive range of colors and state-of-the-art mixing equipment, we guarantee a seamless match across all areas of your vehicle, regardless of the size of the painting job.
Professional-Grade Paint Guns
In addition to using high-quality sanding equipment and tools, we rely on professional-grade painting supplies and industrial sprayers for our work. This ensures an even application of paint and allows us to coat all layers of your vehicle uniformly. With multiple even coats, you won't have to worry about premature fading, chipping, or cracking of the paint. Furthermore, our superior equipment enables us to complete the painting services in a shorter timeframe compared to our competitors, without compromising on quality.
Comprehensive Auto Body Repair Services
If your vehicle requires more than just a paint job, we've got you covered. In addition to our efficient auto painting services, we offer comprehensive auto body repair work. Whether your car has been involved in an accident or requires touch-ups to damaged areas, our skilled technicians can handle it all. We take pride in completing our services promptly, ensuring that you receive your vehicle back in a timely manner.
Your Trusted Auto Painting Partner
At Miller Brothers Auto Body, we are committed to providing timely services, competitive prices, and exceeding customer expectations. No matter the color or reason behind your vehicle's paint job, we guarantee your satisfaction. Trust us with all your auto painting, frame repair, and auto body work needs in Knoxville.
Questions to ask an auto body paint shop
What types of auto body painting services do you offer?
Can you provide a detailed breakdown of the process involved in painting a vehicle?
What types of paint and finishing options do you have available?
Do you have any certifications or qualifications in auto body painting?
Can you provide examples of your previous work or customer testimonials?
How long does it typically take to complete a paint job?
What is your pricing structure for auto body painting services?
Do you offer any warranties or guarantees on your paint work?
Can you work with insurance companies like Geico for repairs and painting after an accident?
How do you handle color matching for paint repairs?
Do you have any environmentally friendly or low-VOC paint options?
What steps do you take to ensure a high-quality and long-lasting paint job?
Are there any specific maintenance or care instructions for a freshly painted vehicle?
Do you offer any additional services, such as paintless dent repair or scratch removal?
What is your process for handling customer concerns or issues after the paint job is completed?
Are you able to provide estimates or quotes for painting services?
What is the level of experience and expertise of your staff in auto body painting?
Are you familiar with the specific requirements or regulations for painting different vehicle makes and models?
Can you accommodate custom paint jobs or special requests?
How long have you been in business, and what sets your auto body paint shop apart from others in the area?
Choose Miller Brothers Auto Body as your preferred Knoxville auto body shop, and experience the quality and expertise that have earned us our stellar reputation.
Miller Brothers Transmission Auto Repair and Body Shop
7123 Tazewell Pike
Corryton, TN 37721
(865) 689-5072
https://www.millerbrosautorepair.com/
Service areas include: All of Knox County, Corryton, Fountain City, Halls Crossroads, Powell and Knoxville