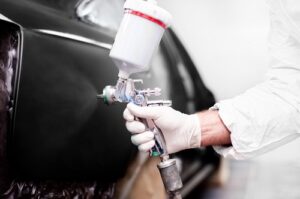 Even the most careful drivers may be unfortunate enough to find themselves in a collision. Whether it results in minor scuffs or more serious damages, your car's paint job is likely to bear some evidence of an accident – but there are ways you can get back that sleek look! Find an auto body shop and get car repainting services.
Have you been in an auto accident that left your car's paint job looking worse for wear? Miller Brothers Transmission Auto Repair and Body Shop are here to help!
Our experienced team has the skills and tools necessary to provide expert color-matching, painting services, and other solutions. Discover everything you need to know about restoring your car's appearance after a collision with our professional repair services at Miller Brothers Transmission Auto Repair and Body Shop.
Get Car Repainting Services
From minor fender benders to more serious accidents, paint damage can be a major headache. DIY-ers may attempt some light buffing of their car's panels but if the blemish is anything beyond superficial scratching or chipping, it's best to turn your vehicle over for a professional inspection and evaluation – trust us when we say you don't want to leave anything up in the air with such an important job!
Will your car insurance cover paint damage?
Automobile insurance is designed to protect car owners in the event of sudden, unexpected damages that may occur. Depending on what type of coverage you have – whether it be comprehensive or full coverage – automobile insurers usually cover costs related to painting damage as well.
Comprehensive protection includes vandalism and theft, extreme weather conditions, fires, and falling objects; while collision policies are more focused on accidents involving other cars or stationary objects. All in all, if your policy entails complete coverage for your vehicle then rest assured that any incurred paint damage should not pose a problem when filing an insurance claim!
It's important to remember that basic wear and tear aren't typically included in policy coverage. So if you've noticed your car paint is fading due to natural causes, it likely won't be covered under collision or comprehensive insurance plans.
The cost
At Miller Brothers Transmission Auto Repair and Body Shop, we understand that when it comes to painting restoration for your car, the cost can vary greatly – from superficial chips to deep scratches and even a difference in the type of paints used. Our team is dedicated to ensuring you get an excellent match with your vehicle's original color as well as quick and accurate estimates.
No matter what condition or make/model may be present on arrival at our auto shop, rest assured you'll receive long-lasting quality results without breaking the bank!
Blending the car paint
In most cases, repairing the damage from an accident doesn't require a full paint job. At Miller Brothers Transmission Auto Repair and Body Shop, our specialized repair services are designed to ensure that you get the perfect color match and blend newly painted panels with your vehicle's original finish.
With decades of experience in modern car body repairs we strive for precision on every project – so whether it's a classic model or something more contemporary, trust us to help bring out its natural beauty!
Miller Brothers Transmission Auto Repair and Body Shop take pride in providing car owners with the best possible car paint repair job. We use sophisticated color-matching technology to select the same factory colors that were used by your vehicle's original manufacturer and mix them using exact formulas for a perfect match.
Although we do our utmost to provide an identical finish, it won't be able to replicate some of your older paint's natural aging – resulting in panels looking newer than their untampered counterparts – but this effect is barely noticeable without a close examination.
Like our Facebook page for more great info about auto services.
Miller Brothers Transmission Auto Repair and Body Shop
7123 Tazewell Pike
Corryton, TN 37721
(865) 689-5072
https://www.millerbrosautorepair.com/

Service areas include: All of Knox County, Corryton, Fountain City, Halls Crossroads, Powell and Knoxville