Miller Brothers Auto Repair is a Geico approved auto collision shop in Knoxville TN.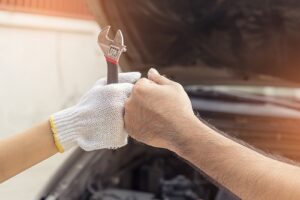 A car accident can be a frightening experience, and the aftermath is stressful. What happens if your car is damaged? You'll have to file an insurance claim. But what happens next? You should bring your vehicle in to an auto body shop.
Getting the post-accident repair done doesn't need to be difficult. You have two main options. You can choose an auto body shop on the list of shops approved by your insurance company. You can also find your own auto body shop and have them handle the repairs.
Remember that the same technology that makes your car easier to drive can also complicate repairs. Car repairs could become more costly. Consider the following factors when making your decision.
Why use an insurance company-recommended auto body shop?
The benefits of using a body shop recommended by your insurance company are numerous. Your insurance company will repair your car after an accident. However, the best option depends on your situation.
Save Time and Money
You can save time and money by choosing an auto repair shop approved by your insurer. You don't need to find the shop, wait for an inspection, or get an estimate. The shop has been approved by your insurance company. Working with a shop that is recommended can help you return your vehicle sooner because you will save time.
Reduce Paperwork
Working with an approved repair shop will save you time and the headache of completing paperwork for your insurance company. In most cases, the insurance company will require that their approved shops guarantee their work if there are any problems with the repair down the line, as long as the car is owned by the customer. If you select your own shop you will be responsible for any future problems.
Savings Potential
If you choose an auto repair shop in Knoxville TN that is recommended by your insurer, you may be eligible for a discount on your deductible – the amount you have to pay yourself out of pocket. These discounts are helpful when you're dealing with the stress that comes from an accident and its repairs. The option to use an approved shop can help you avoid extra worries at a time when things are already stressful.
The shop should give you an estimate of whether they are an approved shop. If you choose a body shop recommended by your insurer, they will work directly with them to cover any extra costs that may arise during repairs. You won't need to pay for any additional costs that might arise, and you can wait until your insurance company reimburses you.
Rent a Car Insurance
You may need to find alternative transportation while your car is being repaired. Rental car coverage is included in some insurance policies. Your insurance company will often work with you to extend the rental agreement if you choose a repair shop that is approved and repairs take longer than expected due to hidden damage. Find out what your insurance covers for rental cars while they are being repaired.
Why go to another auto body repair shop?
There are many benefits to choosing an auto repair shop that is approved by your insurer. However, for some car owners, it may be more beneficial to look at other auto repair shops.
Prior Relationships
You may, for example, have a relationship with a shop where you've been working for many years. If the technician who works at your auto repair shop knows your car and its history, he or she may be able to better determine the damage that your vehicle suffered in an accident.
There are no approved shops near you
It's also a good idea to open your own shop if there isn't one in your area. The benefits of an approved shop may not be worth it if you have to travel a distance to reach them. If you find a shop that can fix your car for less than the approved shops by your insurance company, it may be worth going to your own shop.
You are not on your own if you choose to use a shop for repairs that aren't recommended by your insurer. You can still work with your insurance company to handle and pay for damages caused to your vehicle. The insurance company will still work with you to resolve your claim, but they won't do it directly.
Ask the Right Questions
It's important that you make a careful choice, whether it is an auto repair shop recommended by your insurer or one you choose yourself. You may want to get an estimate from an independent mechanic or shop to help you decide.
Asking questions to your insurance company as well as the auto repair shop you are considering will help you ensure your vehicle's repairs are done correctly and efficiently.
Here are some questions to ask your insurance representative:
What information is needed to make a claim and what do I need?
What and how much coverage is there?
How long can I rent a car with my insurance policy?
What should I do next?
How long will it take to repair my car?
Which shops are approved by my insurance company in my area?
Asking the following questions when evaluating an auto repair shop is a good way to evaluate it.
Are your technicians certified?
Are you using original manufacturer replacement parts or not?
Do you provide a warranty for repairs?
Your estimate is higher/lower than the other shop. Why? You only need one estimate to determine the damages. However, if there are several estimates and they differ greatly, you should ask this question.
Check the List of Approved Products
Check your insurance company's list of approved shops to see if the shop you use is on it. You can still use your favorite body shop while also getting the benefits that come with using an approved shop by your insurance company.
Your insurance company may have approved the businesses listed on their list. However, this does not mean that they are all right for you. Ask questions before using an auto body shop in Knoxville TN that is on an approved list to ensure you are comfortable with the shop's repairs and feel informed about it. Ask your insurance company questions or do some research online about the auto body shop.
Like our Facebook page for more great info about auto services.
Miller Brothers Transmission Auto Repair and Body Shop
7123 Tazewell Pike
Corryton, TN 37721
(865) 689-5072
https://www.millerbrosautorepair.com/

Serving Knoxville, TN and Knox County
Service areas include: All of Knox County, Corryton, Fountain City, Halls Crossroads, Powell and Knoxville